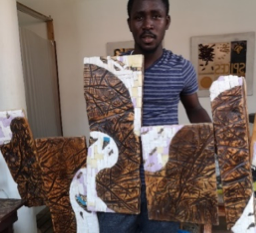 Adutwum Doku, is a young, newly educated artist from Takoradi Technical University, 2018. He is a very dedicated artist who, as he himself says, was born as an artist:
"I was born an artist, but it was very difficult. I only want to do art and nothing else".
Adutwum Doku lives in the Kaneshie district of Accra but grew up in a village in the eastern part of Ghana. Like many other young people, he had moral support for training as an artist, but lacking financial support. However, he managed to start on an art education, and since he is so dedicated an artist, he sees it more as a challenge than a concern to work as an artist in the future.
When he begins a new work of art, he usually works from an idea based on a subject or an experience in everyday life. He considers art as something that can connect your culture with the culture of others through values, identity, purpose, faith and meaning.
With his art Adutwum Doku wishes to express the beauty in everything. Not from traditional aesthetic norms, but from the beauty of everyday life and inspiration from the streets. This art can be and is often shaped by discarded material.
He wants his art to take many different forms and to make the viewer a part of his own storytelling or be a sort of witness to his artwork. He hopes his art will create new thoughts and associations in the mind of the viewer. By this he wants to show, how strong art is.
Adutwum Dokus art is richly faceted. At first sight one might experience a traditional African expression - with a pleasant recognition - but at a second look the artwork opens up, and shows you a rather unik and very beautiful expression. The surface is quivering and vibrating and tells you stories about the past and the present, about light and dark, about artificial- and organic material, about something static and something changeable, about waste and something recyclable - all about contrasts of many sort.
There are many considerations in these artworks, and they are embraced with a lot of feelings and insight in the world.