House for Art and Design,
Nørrebrogade 1,
7500 Holstebro
The exhibition is open from 28.8. - 4.10. 2020.
Friday, Saturday, Sunday 12:00 - 16:00.
Free admission
Exhibition by Patrick Tagoe-Turkson, Anita Cudjoe, Osei Moses Seth, and Tony Tetteh Blankson
Imprint of Ghana is the title of this exhibition of four Ghanaian artists, all working with the clues and imprints we humans put on the world. The tracks are found in the form of discarded flip-flops, rice bags, jute bags and old computers that they find everywhere in Ghana. The artist's work with the materials and compose visual expressions and colors into new aesthetically beautiful works of art, that both express the essence of Africa and symbolize man's vast abundance of waste.
The exhibition consists of many works of art that have never been shown before in Denmark. The exhibition is a solo exhibition by Patrick Tagoe-Turkson and a group exhibition by the three artists Anita Cudjoe, Osei Moses Seth, and Tony Tetteh Blankson. The title IMPRINT of Ghana, however, covers everyone's form of expression. They all work with prints, traces, and signs from everyday life.
Patrick Tagoe-Turkson
You will never finish looking at a work of art by Patrick Tagoe-Turkson. You are constantly discovering new angles, new narratives, new colors. It is like an uncultivated landscape to study his art. His art is so original, so different, and he is an incredibly exciting artist.
The use of worn, discarded flip-flops - mostly in vibrant colors - has become a hallmark of Patrick Tagoe-Turkson's art. The characters, patterns and color scheme express both a narrative of the past, the people who have worn the sandals and at the same time point to new interpretations in the way the work is composed or the sayings Tagoe-Turkson associates with his works of art.
He builds up his artworks by collecting old flip-flops along the beaches or on the streets. Then the sandals are cleaned, dried, cut into small pieces and glued to suedes. This is done according to fixed composition schemes based on an idea, a title or something else. His artworks usually end up as kaleidoscopic color compositions that seem full of energy and narratives.
His stories are about dreams, hopes, villages, people, and environmental waste. He works with themes that transcend history, and across past and present. His artworks are both abstract and recognizable, and traces can be drawn back in art history, but it is also contemporary art in the year 2020 at its best. There is a social consciousness, an environmental consciousness, and an artistic nerve in the expression.
The two plans found in Patrick Tagoe-Turkson's art are clearly expressed. One level is to see the artworks as beautiful aesthetic expressions of an alien world, as decoration and art for art's sake. The second level is to regard the works as environmental activism, and as evidence of the enormous waste. His art thus strikes right into a contemporary, global problem of recycling.
There are many different expressions in Patrick Tagoe-Turkson's art depending on the colors, but there are also other specialties attached to each work.
The white image, for example, is the most expensive because it is difficult to find white flip-flops, as so few use white flip-flops!
The green work of art is full of life and growth – apparently, until you read the associated phrase: My family is like a forest, everything looks green from a distance until you get closer.
The subtle sentence for the black image reads: Poverty is a good teacher. I will never buy a white shoe when there is a black one!
Patrick Tagoe-Turkson
Is a trained artist MFA from KNUST, the college of Art, at Kumasi University, Ghana.
He is both a performer and a lecturer in the Art Department at Takoradi University, Ghana.
Tagoe-Turkson has exhibited across most of the world, the United States, Mexico, South Africa, Europe, and others. He has received many awards for his art. He works with installations, performances, photos, book projects and Land-art.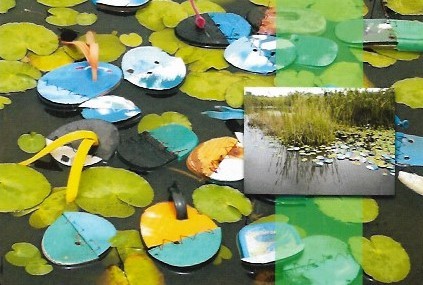 Floating water lilies. Water project made of discarded flip-flops found in the Atlantic Ocean at the coast of Ghana.
Anita Cudjoe, Osei Moses Seth and Tony Tetteh Blankson
Anita Cudjoe and Osei Moses Seth have both graduated from Takoradi University in 2018 and both have had Patrick Tagoe-Turkson as a teacher. Tony T. Blankson has graduated from Ankle college of art in Accra. All three works as full-time artists in Accra and Takoradi.
It is a characteristic of both Anita Cudjoe and Tony T. Blankson to recycle waste products and create an awareness of environmental waste, while at the same time they are creating beautiful works of art.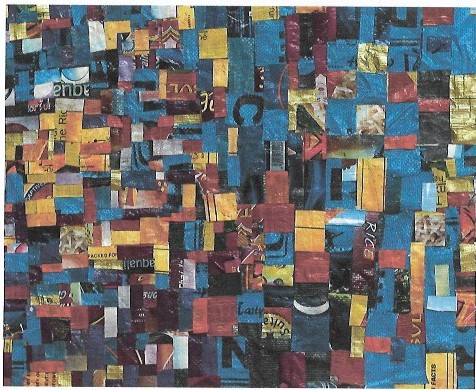 Anita Cudjoe is an exciting young artist. She works in mixed media techniques where she focuses on plastic, waste, pollution, and climate, and she is concerned about how the use of plastic destroys nature and our environment.
She uses her environmental awareness to create stories about places and cities, such as the brightly colored marketplaces that are central to all African societies, and where people have lived in the same way for centuries. By cutting and organizing all the used, discarded rice bags and putting them together in intriguing mosaics, she tells about both her cultural heritage and she focus on the pollution the community's faces.
Anita Cudjoe has a strong eye for both the world's pollution and the composition of the colors for beautiful images. Anita Cudjoe's sense of colorism is also expressed when she works with acrylic on canvas and paints expressive art, focusing on the emotional aspects of man.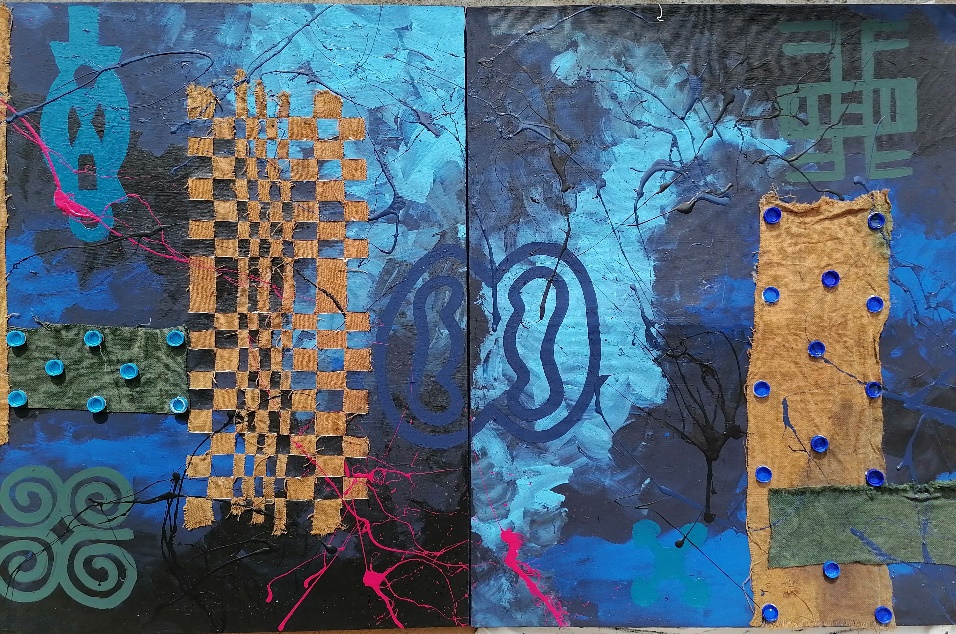 It is characteristic of Osei Moses Seth to work with clear signs and symbols in his art. He works both with painting on canvas and in mixed media techniques. In many of Moses Seth's works, he paints the ancient Adinkra symbols that originate from the Ashanti Kingdom of Ghana. The symbols tell you about the rules of living, a motto, or a saying. The symbols can express strength, humanity, knowledge, and similar human skills. In this way, the works are added an extra dimension.
Moses Seth is also working on creating large installations out of old jute bags. He sews, merges, paints, and recreates unique universes in his art. He has expressed, that his desire is to connect the life that has existed in the past and the life lived now and in the future.
With his art he would like to express the struggles life gives all people from birth, to adulthood to death. By putting the old jute sacks from the marketplaces together with brilliant colors, he creates compositions with many depths.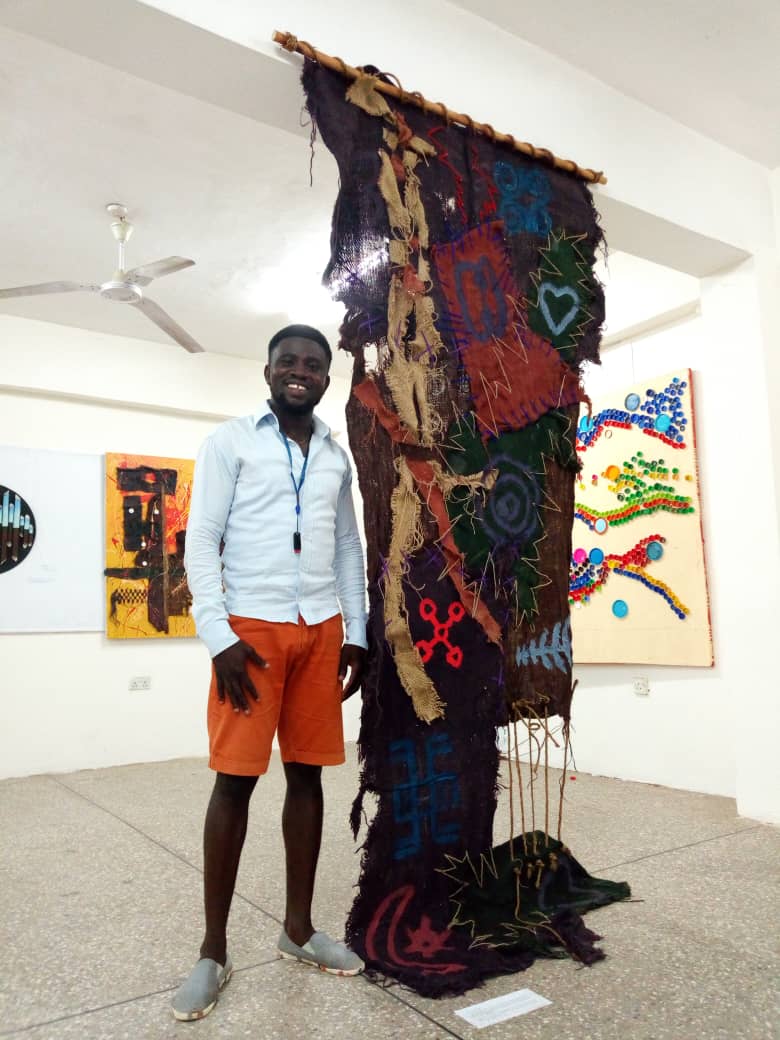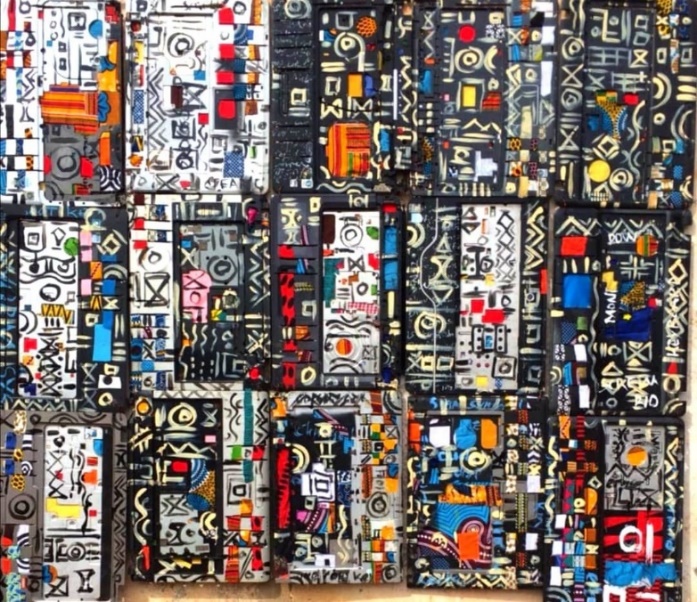 T.T. Blankson was trained at Ankle Art School in Accra, but now lives and works as an artist in Takoradi. Antony Tetteh Blankson works primarily with the recycling of worn-out and discarded Laptops/ computers.
But he also recycles plastic bottles, jute sacks and small pieces of fabric and batik. He himself states that he works with all kinds of reuse of materials, and his goal as an artist is to express sensuality and originality – even in works that are not necessarily associated with these qualifications. His art is colorful and interesting from the point of view of the challenges old computers inflict on developing countries.